Do you need help canceling PRO? Follow these steps to learn how.
You can cancel your PRO Learning subscription at any time from the account page under the Subscriptions tab. Once canceled, you will no longer have access to the PRO library regardless of your billing date. However, you will retain all certificates earned during your subscription. To access your certificates while subscribed or after you've canceled, go to your account page and click on Packs.
We're sorry to see you go. If you ever decide to rejoin us, you can pick up right where you left off. You can cancel directly in your user account by following the steps below.
1. Log in to your AOEU user account using your email address.
2. Click on your user account by selecting "Hi (Your Name)" in the upper right-hand corner OR using the menu in the bottom left-hand corner.
3. Click the tab that says"Subscriptions."
4. Select"PRO."
5. Click "CANCEL SUBSCRIPTION," and a pop-up will appear.
6. Type "cancel" in the box and click "CONFIRM."
Please note that you will lose access immediately, so we encourage you to cancel as close to your renewal date as possible.
Please watch this short video if you need additional assistance: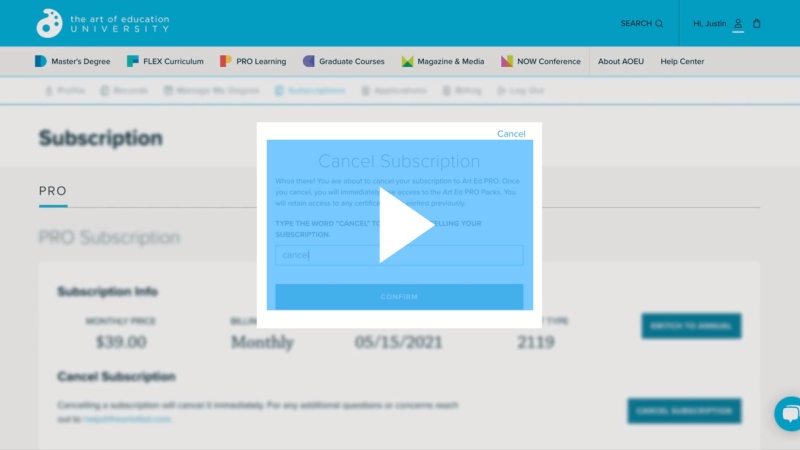 If you have additional questions, please email us at help@theartofeducation.edu.