If you want to create an AOEU account with us, you can simply follow the steps below:
Step-by-Step Instructions for Creating an Account
Click Create Account in the lower left.
Complete all of the information fields, including creating a password.
Click Confirm Account.
​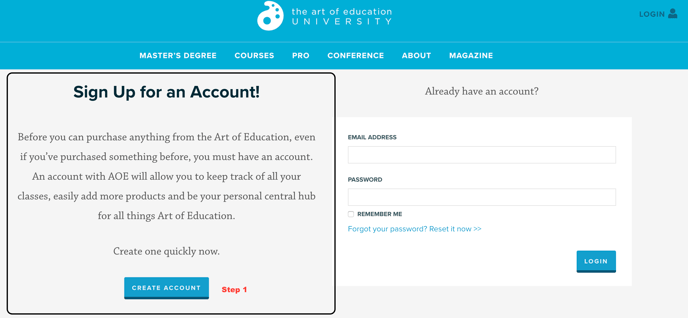 ​
A teacher account is used by anyone who plans to personally use AOEU resources. If you're a district representative purchasing on behalf of someone else (1-2 teachers), each teacher will need their own personal AOEU user account.
An administrator account is used by a district representative who plans to purchase AOEU resources on behalf of a group (three or more art teachers).
​

​
Within just a few minutes, you will receive a welcome/verification email from AOEU delivered to your inbox. Please follow the steps in the email.
Your new AOEU account will enable you to access records, enroll in courses, register for events, and much more!
Questions or concerns? help@theartofeducation.edu