How to Make a Full or Partial Payment Toward Your Tuition
Learn how to make a full or partial payment toward your tuition in the Student Portal
Please follow the steps below to make a payment for a course:
1. Select
Make A Payment
from the Student Portal home screen.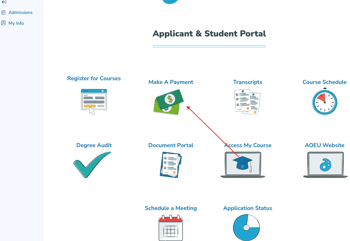 Alternately, select Payments from the My Info menu on the left side.

2. Fill in the amount of the payment and select Pay.


3. Complete your payment details.
If you wish to pay with a purchase order contact bursar@theartofeducation.edu with your request.