Learn how to reset your password.
If your email is run by Google, follow the step below:
1. click "Login with Google", this will log you into your account.
2. Password reset does not work for Google accounts as the password is associated with Google and not AOEU.
If your email is NOT run by Google, follow the step below:
Click Forgot Password? Reset it now below the password box.

Once you've entered your email address and clicked Reset Password, you'll receive a link via email prompting you to reset your password. If you don't see this email in your inbox, please check your spam/junk folders.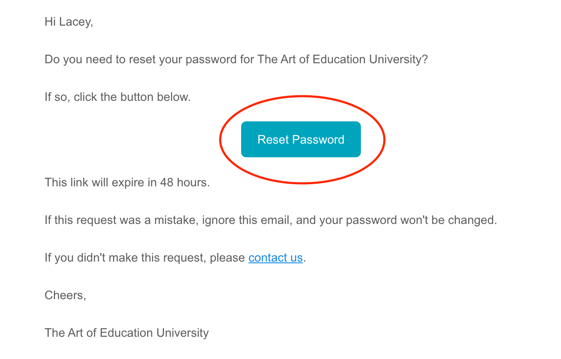 Click Reset Password.
Enter your new password and click Reset Password.
Your password has now been updated. Click login to access your member account using the updated password.
How to Change Your Password From Your Account
When you're logged in to your member account, click the Profile tab.
Find "Change Password" and click Edit.

Enter your current password, then enter a new password.
Scroll to the bottom of the page and click Save and Update.
You will know your password is updated when you receive the message "Your password has successfully been updated."
If you have any questions, please email us at help@theartofeducation.edu.